CW/TW: Sexual violence, mental health difficulties, transphobia.
If you're a fan of RuPaul's Drag Race, by now you'll likely be familiar with RuPaul's endless list of mantras.
"Everybody say love."
"We're all born naked and the rest is drag."
"As a community we do have a responsibility to help each other, but all of us are adults. At one point you've got to say there is nothing else I can do."
Oh, you don't remember that one? You must not have seen the hideous season 10 reunion episode.
It's not uncommon for Drag Race to paint contestants as 'villains' of the show; it's a reality contest after all. This season's big bad was Chicago's The Vixen, a fiercely political queen who nicknamed her temper 'the bear' because… well, you know the advice as far as bears, and whether poking them is a wise choice.
Vixen's most infamous rivalry this time around was with Eureka; the two were tearing strips off each other intermittently throughout the season.
Come the reunion, Ru encouraged the two of them to hash it out. After terse back-and-forth between the two, some other queens criticised Vixen's inability to walk away from an argument. Asia O'Hara, one of the four finalists, points out "The problem is there's now five of us telling The Vixen 'you don't have to do that.'" Vixen agrees, stating "Everyone is telling me how to react, but nobody is telling her how to act."
Ru swings around to Eureka instead, saying she has a similar issue with needing the last word. Eureka says that she's been working on it, and Ru says "It's not something you have to work on, it's just something you have to do." Ironically, this stuns the chattiest queen of the season into virtual silence.
Early in the season, Vixen appeared to create an argument between Miz Cracker and Aquaria; Ru mentions this as a backdoor for reminding Vixen that in her own words, she'd come to the season to fight. After trying to get her own point across, Vixen leaves the taping.
In a turn-up for the books that I really wish I hadn't found startling, after Vixen is gone, Ru takes the opportunity to shit all over her when she's not there to defend herself; here is a transcript, edited slightly for length.
Asia: She walked out of the room because she did not know what else to do, and it is our job as people to help her through a situation that it's clear she's struggling with.
Ru: As a community we do have a responsibility to help each other, but all of us are adults. At one point you've got to say there is nothing else I can do. Each of us have had people in our lives who you realise, I can't do anything for this person unless they want to meet me halfway.
Asia: Why do we just automatically expect everybody to understand that? I don't agree with everything the Vixen says or does but I understand where it comes from… The Vixen seems to me like a person that's crying out for help, and everybody else is like girl, that's on you, you gotta figure it out. That's unfortunate to me.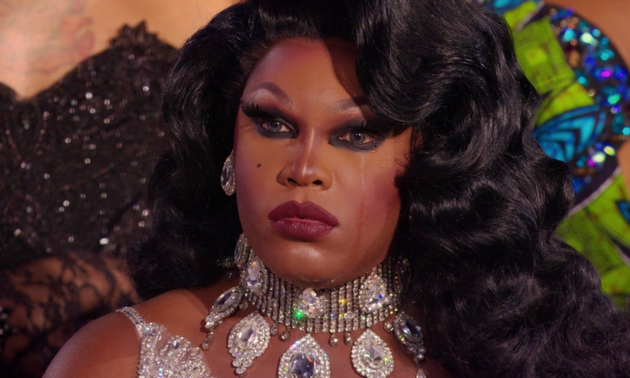 Ru: I love the girl, I invited her on in the first place because I felt like her voice needed to be heard. At one point sometimes you've got to let people go, whether it's anger or whatever the issue is, because it's not a two-way street, it's one-sided, and that's where we are.
Asia: (crying) It's ridiculous that our thought process about people is so self-centred, that [if] it's hard to help somebody we just let them struggle. We're not just drag queens we're people, and here we are during Pride season, and we just let one of our sisters walk out the fucking room because nobody wanted to fucking help her, and we're the first people to say that people aren't treating us right.
Ru: Do you think there's anything we could have said to make her stay?
Asia: It's not about what we say, it's about what we do.
Ru: What could we have done?
Asia: We could have walked up to her and said "Vixen, we need you to stay," but the fact that we, including myself, let her walk out, that door closed behind her and she said "I guess I'm making the right choice."
Ru: I believe when she said that she was done and there was nothing anybody could do to stop her… It's coming from a hurt place but I can't teach her that.
Asia: Of course you can.
Ru: What am I going to go back and follow her?
Asia: Not at this moment.
Ru: Can you explain to someone that cannot be spoken to?
Asia: No I don't expect you to do that.
Ru: (raising voice) Look at me, I'm from the same goddamn place she comes from, and here I am, you see me walking out? No I'm not walking out, I fucking learn how to act around people and how to deal with shit, I'm not walking out and saying 'fuck all of y'all.' That's disrespectful to each of you. And I know you feel for her because you see yourself in her because we all have that same frustration… You can't just make excuses for bad behaviour or inconsiderate behaviour.
Asia eventually, like Eureka, became a virtual mute when it became apparent what RuPaul's attitude was. Ru has throughout the show's existence chosen to overlook or actively defend queens who were lashing out, through youth, damage, fear or any number of issues, but Vixen apparently wasn't good enough for that.
Yes, turns out Ru is just another person who thinks that people that don't ask for help are not worth helping and that a difficult life is an 'excuse.'
Suddenly it became a lot harder to ignore other problematic elements of the career of RuPaul that I'd handily managed to sidestep in my mind.
His music is full of transphobic terminology like 'ladyboy' and 'tranny chaser.'
Until season seven, Ru's video message each week was called a 'shemail.'
In recent seasons, Ru has seemed to lampoon participants who do not speak English as a first language despite Puerto Rico's rich drag history.
There's his immensely objectionable comments on transpeople in general, including possibly mistaking an art piece about trains for being the trans pride flag.
Social media commentators, including ex-participants, have pointed out how the winners of Drag Race have become skinnier and whiter since the show began (60% of the winners have been white; none have been 'big queens' or Puerto Rican queens).
During season seven, when comedy queen Katya was struggling with anxiety, Ru told her she was 'addicted to the anxiety' as if it was a drug. Speaking as someone in possession of an actual addiction to nicotine and a diagnosed anxiety disorder… Ru, I know what addiction looks and feels like and my anxiety disorder certainly isn't that.
Looking back, Ru's been exploiting the queens' trauma with prying interviews for years. Every throw to an ad break in the reunion special, Ru was wearing a smug, punchable expression. Some of his questions to the queens seemed like a roundabout way of saying 'you're not crying enough to make this good television.'
Vixen and Eureka weren't even the only victim of Ru's shocking attitude towards mental health concerns in the same episode. Blair St. Clair, a young queen with a very boyish look out of drag, confessed during the show to having been raped.
Dusty Ray Bottoms (whose story of religious persecution was listened to because she managed to be nice about it, apparently making it valid to Ru) indulged in a truly hideous joke late in the episode: "Ms. Blair St. Clair, I know you like to claim that you're a professional actress, but being a decoy on To Catch a Predator is not a legit credit."
This was during a segment that has always been about making mean-spirited jokes about other queens, but what Dusty did here is joked about a survivor of sexual violence looking just like someone who would be likely to experience sexual violence. Even Asia didn't challenge this.
Kameron Michaels, a queen depicted on the show as quiet and shy, takes a lot of flack for not socialising with the other queens. Perhaps Kameron is as aloof and rude as the others say she is, but Dusty's statement that "I don't think many girls do have a relationship with you… and it's almost as if you don't want it at all," sure sounds like victimising someone for being introverted.
It's been pretty easy as a cis-white male to compartmentalise this, and I'm pretty ashamed of myself for having chosen to overlook it until Ru's behaviour became even more disgusting. I apologise to all transpeople for letting them down.
RuPaul wields a great deal of power and influence, and queer people, who are more likely to experience mental health challenges, deserve a better figurehead in the media. It's time to look to somebody else, if anyone.
Remember folks, live your life by RuPaul's values!
– People with mental health challenges deserve support. But you know, only if they meet you halfway.
– If you're difficult to support, then you deserve to be abandoned.
– If you want to change your behaviour, it doesn't take work and isn't a process, it just happens.